Pastor Jeff Borgwardt has served at First since November 2009. He is responsible for the spiritual leadership of the congregation and oversight of the church staff. His areas of passion are preaching, adult discipleship, and community service.
Prior to his arrival in Longview, Pastor Jeff served congregations in Illinois and Iowa. He is a graduate of Northern Illinois University and the Lutheran School of Theology at Chicago. In his free time, he enjoys cooking and hosting parties. His favorite hymn is Beautiful Savior.
Email:
pastor@firstlutheran.us
Phone:
(903) 295-7423 ext. 11
Director of Youth and Family Ministries
John started his ministry here at First March 2020. John comes to us from St. Matthew's Lutheran Church in Fort Worth where he served in a similar position. He actively serves on the board of directors for of our Camping Ministry, Briarwood Lutheran Retreat Center. John's passion for youth and family ministry is evident in everything he does.
Email:
youth@firstlutheran.us
Phone:
(903) 295-7423 ext. 12
Director of Worship and Music
Lou Bass has served as the Director of Worship and Music at First since May of 2006. He has spent over 30 years working for churches in marketing and development as well as music. Lou attended Stetson University, Lakeland Theological Seminary, and the Unity School of Christianity.
Lou's favorite hymn is Fairest Lord Jesus (Beautiful Savior), and he enjoys spending time building/fixing computers and parenting his dogs. Lou is an extremely talented piano player, and the congregation enjoys his musical offerings!
Email:
music@firstlutheran.us
Phone:
(903) 295-7423 ext: 15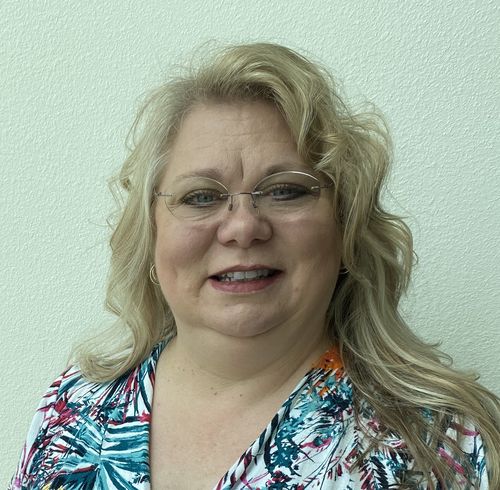 Tina Sewell has been the church secretary since November of 2008. As the secretary, she coordinates all office activities and manages the weekly bulletin, monthly newsletter, and "official" calendar. If you have a question about an activity or event, she is the person in the know!
Growing up with a minister father and marrying the son of another minister, Tina is a self-proclaimed church nerd. Her favorite Bible verse is Matthew 6:26, "Look at the birds of the air; they neither sow nor reap nor gather into barns, and yet your heavenly Father feeds them. Are you not of more value than they?" Tina enjoys spending time with family and traveling.
Email:
churchsecretary@firstlutheran.us
Phone:
(903) 295-7423 ext: 10
Karen began working at First in 2018, after a very successful career working at Good Shepherd Lutheran.
Email:
bookkeeper@firstlutheran.us
Phone:
(903) 295-7423 ext: 16
Tutoring Center Coordinator
Margaret comes to her role with The Success Center with over 22 years of experience working in the public-school system. During her time in the public school system, she primarily worked with students with learning disabilities. In her free time she enjoys spending time with her grandkids and getting out into the garden whenever possible.
Email:
tutoring@firstlutheran.us
Phone:
(903) 230-9743